Kitchen Remodeling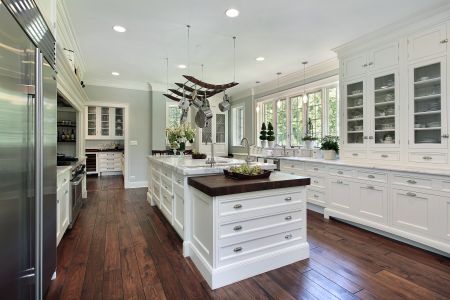 Making the wise decision to move forward with your Chicago kitchen remodeling service needs is an important one to make. There is no reason to settle for less than the best and part of having the home of your dreams is making sure that you love every last detail. So if you are in need of an update and an upgrade, the only name that you need to know is Peralta Painters. We have the training, skills and expertise needed to get the job done.
We know the importance of working one on one with each client in order to make sure that each one understands the options that they have available to the,. We can work with your budget and your deadline in order to still provide you with the kitchen of your dreams. Even if you are not much of a culinary genius, this does not mean you should neglect improving upon this room. This is what brings the whole home together and helps to create an inviting and cohesive look and feel throughout.
Kitchen Remodeling Specialists
There are plenty of components to think about when it comes to planning out your kitchen remodeling. In most cases a job will not require moving key elements like plumbing or electrical, unless you have a much more extensive project in mind. Mainly you will be thinking about choosing things like:
Cabinets – Create a whole new look and provide yourself with the much needed storage space you need with just the right cabinets. In some cases, you may even want to simply refinish the ones that you already have in place.
Flooring – The flooring should create a stunning and comfortable look while also being something your can tolerate standing on while prepping and cooking.
Countertops – Choose one that looks stunning but that also has a realistic level of maintenance requirements.
Lighting – We can't stress enough the importance of having enough lighting in the room where you prepare food.
While there are certainly other aspects you may have to think about, these are the main ones.
Chicago Kitchen Remodeling
So, if you are ready to get started with your Chicago kitchen remodeling project – what are you waiting for? The crew of pros here at Chicago Painting Contractors is ready, willing and more than capable of tackling this job for you. We will work with you to make sure that you understand the options that you have for each component of your new kitchen, and make good choices. From there we will handle the professional installation and provide you with a whole new kitchen.
We Offer Kitchen Remodeling Services to the Following Areas
Addison, IL
Algonquin, IL
Antioch, IL
Arlington Heights, IL
Barrington Hills, IL
Barrington, IL
Batavia, IL
Bellwood, IL
Bensenville, IL
Berkeley, IL