Considering Faux Finish Cabinets For Your Kitchen?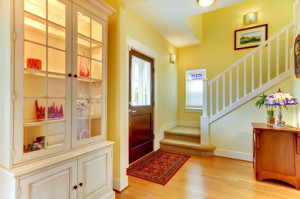 Many customers want to take a short cut method of remodeling their kitchens by faux finishing the cabinets. This method keeps the base or bones of your cabinets and lets you restyle the doors and outer surfaces, including the hardware. That means you get an entirely new look that costs much less to achieve.
Faux painting should be done by professionals who know how to properly work with the type of material the cabinets are made of. It may be a simple procedure, but it's not easy to accomplish. Faux finishing takes plenty of skill and knowledge as well as experience working with different building materials.
A faux finish for your kitchen cabinets may be just what you're looking for to create a new beautiful look for your home's busiest area. You can trust our professionals at Peralta Painters for top quality workmanship that looks stunning.
Custom Faux Finishes For Your Kitchen Cabinets
Our experts at Peralta Painters can custom finish your kitchen cabinets with expertise. We can help you figure out the right faux finish for your cabinetry. You'll have many options in painting techniques, patterns, materials, glazes, and surfacing.
Wood Graining
Metallic Finish
Antiquing
Glaze Painting
and more
Cabinet antiquing is only one option you may love. This finish gives your home a rustic, warm appeal that can look equally sophisticated and charming. Depending on the rest of your design, cabinet antiquing can fit any style you're going for whether you enjoy a more modern look or love classic style.
Faux kitchen cabinet finishes are applied over existing cabinetry or can be applied on new cabinets. It's all up to your tastes and what you like. Your kitchen cabinets need to be particularly pleasing to you because they're a major part of your home. The finish or style should match the style you love. Our kitchen cabinet painters can help you get the look you are going for.