Refinishing Your Chicago Decks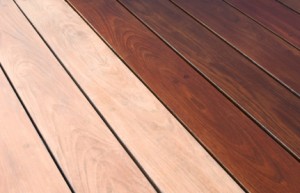 Chicago deck refinishing needs to be done properly in order to get the results that you are looking for. When you are learning how to refinish a deck, there are some basic things that you learn from the start that will make the job easier and get professional results. You should refinish your deck no less frequently than once every two years. If you do the job properly, then you will have months of enjoyment on your deck and you will also take the necessary steps to preserving your deck. A wooden deck is a significant investment that the whole family can enjoy all summer long. If you want to protect your investment and get the maximum amount of enjoyment from your deck, then you should refinish it regularly.
Before you start to do any kind of work on your deck, you should clean the surface thoroughly. This can seem to be a strange step for a Chicago deck refinishing project, but your deck can accumulate a lot of debris over the span of a year or two. This includes tree sap, tar, animal waste and other kinds of debris that can get into the surface. Things like tree sap and roof tar can be a problem for later steps. That is why it is a good idea to get deck cleaning solution and a power washer and get your deck completely clean before you get started. It does not matter if it rains immediately after you clean your deck, but you will need to wait for your deck to dry before you get to the next step.
When you are learning how to refinish a deck, you are told that old finish does not make a great surface on which to put new finish. That is why the second step of a deck refinishing project is to sand the old stain off with a power sander. The old stain could be bubbling and peeling off of the deck surface. If you leave that old stain in place, then you will be wasting your time by putting down a fresh coat. Another advantage to sanding the deck before finishing it is that you can change the deck color if you want. It can be refreshing to add a new color to your backyard landscaping by giving your deck a new color every couple of years.
A Chicago deck refinishing project is a good way to preserve your deck and make sure that it remains safe. It can also be a good way to add some variety to your backyard by changing the color every so often. Call a Chicago deck refinishing contractor to discuss this option for your home.